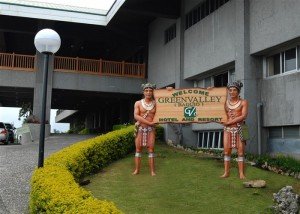 Built on top of a plateau, the Green Valley Baguio Hotel offers a majestic view of the St. Thomas Mountains, which is one of the highest peaks in the Cordilleras.
This hotel features a bowling alley, tennis courts and an indoor pool. It also has a basketball court and a billiard table where you can play with friends and other guests.
Green Valley Baguio has a restaurant which serves delectable local fares for your convenience. They also offer dry cleaning and laundry services.
Housing 72 well-furnished rooms, the Green Valley Baguio Hotel and Resort is a definite must stay for the sporty and outdoorsy types.
Business Address : Santo Tomas Road, Baguio City, Philippines
Contact Person :
Contact# : +6374-4445140 or +6374-5141 TELEFAX #:+6374-442-7286
Business Email Address : greenvalleybaguiohotel@yahoo.com.ph
Facebook Page : https://www.facebook.com/GreenValleyBaguioHotelAndResortInc

Operating Hours : 24/7
Business Category : Travel & Accomodation
LOOKING FOR A PLACE TO STAY IN BAGUIO?