Baguio City Health Service Office reported that a 106-year-old resident of the city has recently recovered from the coronavirus disease.
As such, he may be the oldest person in the country to recover and survived the dreaded disease.
The centenarian, who traces his roots from Aguinaldo, Ifugao, and is now a resident of Irisan, Baguio City tested positive for the virus in October. Although he only had mild symptoms, he needed to be confined to a hospital because of his age. He was admitted to the Baguio General Hospital and Medical Center (BGHMC) and stayed there for 13 days.
Image: Facebook/Baguio General Hospital and Medical Center
City Health Services Officer Dr. Rowena Galpo said the patient was released "based on clinical evaluation and risk assessment by his attending physician at the BGHMC.
The patient's daughter was thankful to the health care workers who took care of her father.
"God made you as an instrument. I hope that my father would be an inspiration to all Covid-19 patients," she said.
BGHMC's Adult Infectious Disease Specialist Dr. Thea Pamela T. Cajulao said that Covid-19 should not be taken lightly. She added that though most cases are mild, the number of severe and critical cases is increasing, especially among the vulnerable population including the elderly and those with co-morbidities.
"Our patient is living proof that Covid-19 can be beaten. Remember that prevention is better than cure, but in instances that we cannot prevent it, early detection, treatment, and isolation can help decrease the risk for mortality," she added.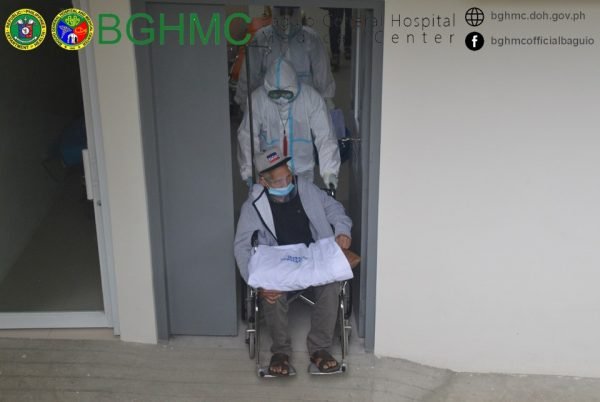 Image: Facebook/Baguio General Hospital and Medical Center
A record-high single case in a day
On October 19, Baguio City recorded 65 new cases of Covid-19 infections. Fifty-nine of these cases were discovered through contact tracing while three were confirmed through expanded testing. On the other hand, three of them showed symptoms of the disease.
This brings the total number of 1,704 confirmed Covid-19 cases in the city since the pandemic started, of which 589 are active cases. From the total number of cases, there were 1,074 recoveries and 21 deaths.